Sprouting Ranunculus
Posted : admin On

1/2/2022
I have big dreams of growing ranunculus here in my zone 6b/7 climate. Ranunculus are my all time favorite flower and even though they don't typically overwinter in my zone, I am determined to give it a shot.
The tricky thing about ranunculus is that they are cool season flowers, but they don't tolerate freezing temperatures.
Ranunculus leaves, grass green and vaguely celery-like, grow in a mound 6 to 12 inches across. Flowers on 12- to 18-inch stems emerge in March from fall-planted bulbs, June and July from spring-planted bulbs; they last up to six weeks. Ranunculus are happiest with about six to eight weeks of cool sprouting temperatures. Daytime temperatures between 45 to 50 degrees F and nighttime cools of 30 to 50 degrees F are ideal. Do not expose your ranunculus rhizomes to temperatures 60 degrees F of higher for extended periods. We've tried a few different methods to growing our ranunculus and anemones and we've had success with all. Most growers will plant them out in the fall and cover with remay under low tunnels, so that they bloom at the first signs of spring. We plant ours later in the year, around the first week of February, so that we can use the blooms for Mother's Day and our May and June brides. Ranunculus buttercup plants require temperatures of no more than 60 F. (16 C.) during the day and 45 to 50 F. (7-10 C.) at night to break dormancy and begin sprouting. Ranunculus plants may survive as perennials in Zone 7 if you mulch lightly around the bases.
Here in Utah County we get temperature extremes of freezing cold to boiling hot, even within one day. Our spring doesn't last long before the temperatures jump up meaning our growing window for ranunculus is very short (especially if you have plant them late winter/early spring).
This doesn't allow a lot of time to get a harvestable crop from the ranunculus. (Same goes for anemones which have similar grow conditions.)
After quite a bit of research, I've discovered some flower farmers that grow ranunculus in zone 7 by planting in the fall and providing overwinter protection from the cold.
Being an urban flower farmer, my options are pretty limited. Ideally, a minimally heated hoop tunnel would be my first choice for overwintering the ranunculus. However, that is just not feasible in my suburban grow space.
Instead, I will be constructing a low tunnel for overwintering the ranunculus and anemones (a much more affordable and space conscious alternative to a hoop house). I am building a mix between this farmer and this farmer.
The cost of a four foot by thirty foot low tunnel is around $200. Add that to the cost of my ranunculus corms and anemones (around $225 for 500 corms) and you get quite the costly gamble. Therefore, I will be planting half my corms this fall and half in the late winter/early spring to compare results.
Plus praying for a mild winter.
Where to source corms?
If you are growing for market, I highly recommend getting your corms from a wholesaler for cost effectiveness. I ordered all my corms from Gloeckner. (They sell out so be sure to check their purchasing calendar to get your order in at the right time. I ordered mine in the summer.)
Side note: If you want to order just a few for some beauty in the garden, then I would order from Easy to Grow Bulbs online and I would actually just plant in the late winter/early spring rather than overwintering.
Before ordering, I researched the different varieties of ranunculus to know which ranunculus series and variety would be the most hardy for my zone. Some series and varieties are less cold tolerant or don't get tall enough stems for cut flowers.
After a lot of research, I found that most flower farmers in similar conditions found the La Belle ranunculus series to be the best option.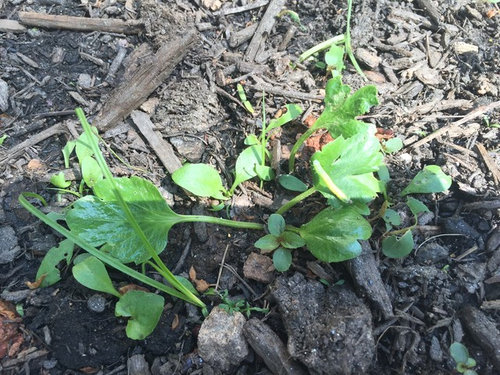 Ranunculus Growing Conditions
Now, different colors within a series also have different grow results. Some color varieties within a series are more productive than others. With that in mind, I decided to put most of my investment in the La Belle Champagne variety. I will also be planting smaller amounts of La Belle Whites and La Belle Salmon.
Finally, you will want to consider the size of corms. Knowing that I am asking a lot of my ranunculus to overwinter in a zone that they are not fond of and knowing I want them for market production (meaning I want the max number of stems as tall as possible), I chose the largest size corms (5/7 ).
The same process applied when ordering anemones for overwintering. My research pointed to the Galilee series of anemones in their largest corm size. I particularly wanted to grow the black and white (or panda) variety.
Unfortunately, Gloeckner canceled my order of the galilee series due to a crop shortage and subbed the Marianne series in the panda variety. I was super bummed, but hopefully, this Marianne series performs ok.
What to COnsider Before the Pre-SprouT?
Knowing my corms were scheduled for delivery the first week of October, I quickly began gathering everything I would need for pre-sprouting.
Below is a list of the materials I gathered:
A pre-sprouting medium (half peat moss & half perlite – I got two large bags for mixing from Home Depot)
A tub for mixing the medium and some tubs for planting the corms for pre-sprouting (I found some kitter litter-sized tubs from Walmart)
Misting bottle for keeping the pre-sprouting medium slightly damp during the pre-sprouting process
Mesh bags for the pre-soak (sourced from the dollar store)
A clean bucket for the pre-soak
Electronic temperature gauge to make sure the corms stayed as close to 50 degrees as possible (sourced from Home Depot)
Waterproof labels to place in the mesh bags during the pre-soak and in the tubs during pre-sprouting
Some growers use different types of potting soil mixes for the pre-sprout medium, but after a bit of research I decided to go with my half and half mix of peat moss and perlite. Vermiculite is listed as an acceptable medium as well and potting soil.
I chose not to do an anti-fungal soak in favor of keeping the process as simple and affordable as possible.
My next big consideration was where I was going to pre-sprout my corms. Ideally, the corms should be kept as close to 50 degrees fahrenheit as possible, but I did not have a root cellar or basement like all the other flower farmers seemed to have.
I considered keeping the corms in an extra bathroom with the heating vent blocked and the window cracked, but when I tested it out, the house heat seemed to kick on more frequently.
I ended up deciding that my partially insulated garage was the next best thing. (The walls and garage door are insulated, but we have not gotten to the rafters yet.) I am hoping this environment isn't too cold since my corms will rot if they freeze.
I need this to work out as it is my only option…our garage tends to be about ten degrees warmer than the outside temperatures. Unfortunately, while our fall days tend to be around mid fifties, the nights are dipping down to 27 degrees. As an extra precaution, I placed a small space heater in the garage that should kick on if the temperature drops too far. (I hate the added expense of doing that, but the pre-sprout process should only take ten days.)
The Pre-Sprout Process:
Pre-soak: When my corms arrived I unpacked them and inspected them for any signs of rot or mold. Everything looked great so I started placing the corms in their respective mesh bags with waterproof labels. I filled my bucket with cool to room temperature water and placed the bags of corms inside, making sure all the corms were submerged. I then placed the bucket in a bathroom tub with the water trickling to allow air flow. I left my corms soaking for three hours which was plenty of time for them to plump up without risking rotting them.
Prepping the medium: While the corms are soaking, you can prep the pre-sprouting medium and work station. I had a fold out table set up in my garage. I got out my large tub and mixed one bucket or peat moss with one bucket of perlite (one-to-one ratio). The best way to do this is with your hands so you can break up any big chunks of the peat moss and discard any large twigs. (This is a great time to include your little helpers that love getting their hands in the "dirt.") Once it was all mixed, I used a watering can to sprinkle water on the medium until it was slightly damp but not saturated like you would with seed starting. The best way to do this is to add water gradually. Set the medium aside and prep your pre-sprout tubs (I used a black sharpie to mark the inches on my tubs for easy measuring). Make sure all your materials are pre-cleaned because you don't want to introduce fungus or bacteria.
Planting the corms for pre-sprouting: Once your three hour soak is complete, bring your corms to your prepped workstation. I let my corms drip dry by pulling the mesh bags out of the water and placing them on my table. Drip dry does not mean you should wait until the corms are actually dry, just get them out of the water and let the excess water drip off. To plant the corms in the tubs for pre-sprouting, you will be layering the growing medium with the corms like a lasagna. Start with a one inch layer of the growing medium on the bottom of the tub, then a layer of corms (just spread out the corms so they are close but not touching). Then cover the corms with another inch of the growing medium (don't press the medium down). Repeat this process until your corms are all planted or tubs are full. I kept my varieties in separate tubs and placed the waterproof labels inside. Once the corms were all tucked in for pre-sprouting, I placed them on a shelf in my garage with the lids partially off to allow air. Every day I check on the corms to (1) make sure no mice got inside, (2) no mold is growing from a rotted corm that needs removed, and (3) that the growing medium is still damp. If the medium seems dry, I have been using a misting spray bottle to re-dampen it. I am hoping for a lovely batch of pre-sprouted ranunculus and anemone corms after ten days!
Update: My corms sprouted after 14 days (they took a few extra days because my garage was chilly). I had outstanding germination on the La Belle Champagne. Only one was rotted out of 100. I was really worried that my corms were too dry or osmething because I saw nothing happening. Then suddenly boom! They all sprouted out of no where. The anemones had no rot, but had pretty low sprouting in comparison (around 60 percent). I would probably soak the anemones twice as long next year. I planted all of them anyway since I saw no rot.
While I am waiting for the corms to pre-sprout, I am prepping the outside area for planting. This involves double digging my row, getting a quick soil sample, fertilizing/amending the soil, and building my low tunnel.
My tulips, daffodils and peonies should be arriving for planting this week too, plus my dahlia tubers are ready and waiting to be dug up for storing. It is a bit overwhelming!
Stay tuned for the second part of overwintering ranunculus and anemones. I will also be sharing my process for constructing my low tunnel and planting my other fall planted bulbs.
If you like incredibly detailed instructions (like me) then keep following along here or on my Instagram.Both flower farmers and hobby gardeners are welcome!
Ranunculus are like the Labradoodle of the bulb world; they look like a rose, come in all kinds of gorgeous colors, and arrange beautifully but they do not have a scent. This means they can be enjoyed by people with allergies or who are sensitive to aromas. Though ranunculus are popular cut flowers with florists and wedding bouquet designers, they aren't as well known to home gardeners. But they'd look fantastic in your garden, so you should plant some!
You'll want to plant enough to cut and bring indoors to enjoy, too, since they're such great cut flowers. Why let the florists have all the fun?
What Is a Cutting Garden?
This is easy—it's just what it sounds like! No, really, a cutting garden is composed of plants that you plan to cut for floral arrangements. Typical cutting garden plants have common characteristics, such as nice, strong, straight stems; colorful blooms (or foliage); and they'll last a long time in a vase. Some have scent, but some don't.
Cutting gardens can be stand-alone beds (or even rows), dedicated solely to plants you intend to cut. They can even be beds dedicated to a single flower, such as zinnia. Those are often grown by gardeners who are growing for commercial purposes.
Most gardeners will incorporate cutting garden plants or areas within their landscape beds to great effect. Then it's more a matter of garden design and matching a plant to its environment. It's good to decide your ultimate purpose—lots of flowers for cutting versus some flowers for cutting—so that you plan the cutting bed garden properly.
How to Plant a Traditional Cutting Garden
Planting a traditional cutting garden isn't very different from preparing any landscape bed but in most cases, you'll need a site with lots of sun to get the most flowers. Here are some points to keep in mind:
Do you want to grow lots of flowers for cutting? If yes, you'll want an "efficient" bed. That doesn't always translate into a "pretty" bed because its purpose is more utilitarian. Find a good, sunny spot that's not front and center of your landscape. Along a fencerow can be a great location so it doesn't look like you just made a bunch of rows in your yard!

Decide on your favorite plants that you want to grow. Some great options, in addition to ranunculus, include: sunflowers, cosmos, tulips, alliums, narcissus, gaillardias, asters, sweet peas, phlox, peony, coneflowers—you get the picture.

Since production is more important than garden design, plan the traditional cutting garden bed so that you plant like with like. For instance, a row of zinnias, a row of ranunculus, a row of peonies, a row of daffodils for cutting.

Since the design part comes later as you arrange the flowers, it's not so critical to design the bed so that it has an overarching design.

Consider if any plants need support, such as peonies. Trellises, cages, or string lattice can work wonders here. It's better to place the supports when you plant the bulbs than to wait until they start growing. That way th plants can just grow up through the supports.

Think about bloom sequence so you have a rotating supply of flowers to cut. Ranunculus are sweater-weather plants; they like cool temperatures, and bloom in spring. Include other plants that bloom in summer and fall in your cutting garden so you have plenty of flowers all season.
How to Plant "Cut-Flower Plots" within Standard Garden Beds
Incorporating a cut-flower into a standard garden/landscape bed is a bit trickier, but nothing you can't handle. Keep these points in mind:
What are the existing bed conditions? Sunny? Rich soil? Good drainage? Ranunculus like all these. Match the cutting flower to the bed's site conditions.

Even though a cutting-garden plant is often a cut-and-come-again type, meaning cutting stimulates more growth, planting extra ranunculus to cover the "holes" left by cutting is a good idea. Then the overall design of the bed isn't affected by the missing cut-flowers.

Scatter 'cutting plots' throughout the garden beds so that you're not cutting all of the flowers from one side of the bed, leaving it bare.

Think about your overall garden design, especially the color scheme. Since ranunculus come in multiple colors, it's pretty easy to find a complementary one. But you (probably) don't want to mix a hot color in a bed of cool colors.
Plants that Play Nice with Ranunculus
Ranunculus are "good neighbors" as they play nicely with other plants. Since their blooming season is early spring, many plants bloom concurrently with them. Some plants that also bloom in spring around the same time are late-blooming tulips and late-blooming narcissus.
There is a vast array of alliums that bloom about the same time or a bit later too. Imagine putting together a bouquet of ranunculus and striking allium blossoms. All kinds of perennial plants can take up the slack once ranunculus have done their thing, including coneflowers, phlox, rudbeckia, and peonies. The options are virtually endless.
What You Need to Know about Growing Ranunculus in Colder Climates
Ranunculus can be grown in colder climates, but you may need to treat them as container plants. It's really up to you.
For those in zone 8 and warmer, plant outdoors in fall.
If you live in a colder zone, you can either plant in the landscape in April-May or start the bulbs indoors in a cool spot (such as the garage) in February. Move them outside when all chance of freezing weather has ended, usually about a month before your last-freeze date.
While spring-planted ranunculus may not be as prolific as fall-planted ones, you'll still be able to enjoy plenty of their colorful tissue-paper blooms, a special treat in the spring.
Ranunculus Plant Care
← Previous PostNext Post →